Home (2015/I)
PG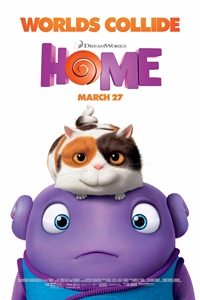 play trailer
▶


Play Trailer
When Oh, a loveable misfit from another planet, lands on Earth and finds himself on the run from his own people, he forms an unlikely friendship with an adventurous girl named Tip who is on a quest of her own. Through a series of comic adventures with Tip, Oh comes to understand that being different and making mistakes is all part of being human. And while he changes her planet and she changes his world, they discover the true meaning of the word HOME.


DetailsAnimation
1 hr. 36 min.
Release Date: June 26th, 2018
Rated PG for mild thematic elementsCastJim Parsons, Rihanna, Jennifer Lopez, Steve Martin, Matt JonesDirectorTim JohnsonWriterTom J. Astle
Matt Ember
Adam Rex
Wed 12/31 Showtimes
No showtimes available
on this date.